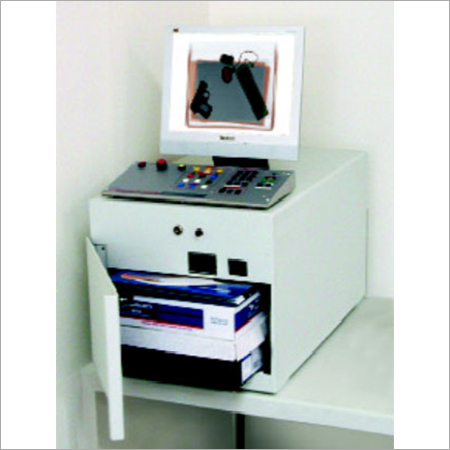 AC 3920 Parcel Scanner
Product Code : 03
Product Description
Parcel And Scanner - AC 3920
Inspection Capabilities :-
It consists of 15.4" wide (39 cm) x 8.0" high (20.3 cm) x 15.5" long (40 cm) tunnel.
Its L shaped detector comes in handy for packaging testing purpose.
Material Penetration: 4 mm (0.16") steel.
Contrast Sensitivity: More than 2 million color tones standard.
Resolution: 38-40 AWG wire.
Processing: Self regulated pushbutton operated photodiode scan.
autoTracking®: The ergonomically developed belt ensures permanent automatic tracking function.
Film Safety: Ensures maximum ISO 1600 (33 DIN) high speed films.
X-ray Generator :-
Independent X ray tube head.
High voltage rating: 60 kV operating and 90 kV standard.
Duty cycle: Complete duty cycle with sealed oil bath cooling.
80 degree diagonal beam orientation.
X-ray Detectors :-
These detectors are available in surface mounted design and these are reckoned for their exceptional compatibility and outstanding frequency level. They use advanced photodiodes by using high performance processor which enables these to process Pentium image with single energy color based on object thickness required in airports.
Video :-
It is designed with 19'' colored SVGA screen of standard quality that ensures high resolution flicker free image. Its low radiation monitor with .28 dot pitch is available in 1280 x 1024 size. The single energy color quality depends on the density of object. We also offer 15'' or more than 15'' monitor with flat screen design.
Standard Features :-
• RealClear® • 4X zoom • Pushbutton conveyor with self regulating mechanism.
• autoDensalert® • Dark & Light enhance • 17'' LCD screen with bright image quality.
• autoTracking® • Density Scan • Slim look with compact structure and functional stability.
• autoSensing® • Stripping keyboard and low or high density level.
• Color; Reverse B/W • Compact look • Completely digital.
Physical Details :-
- Weight: 185 lbs (83 kg).
- Construction: The entire structure is made of heavy duty steel with painted surface. It is also equipped with stainless steel made command center based keyboard.
- Requirements: 230 volts AC + 10%, < 6 amps. All at 50 or 60 Hz.