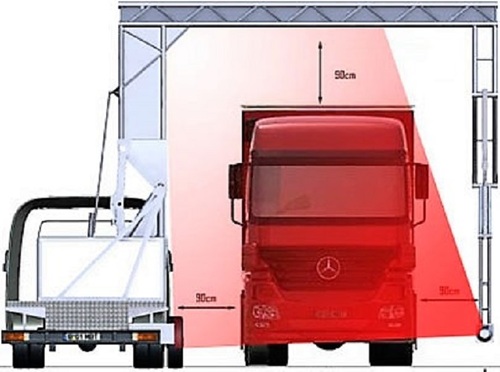 Cargo Scanner
Product Description
Cargo Scanner Features
Fully automated, cost effective, safe and reliable Gamma Ray scanning technology (Radioactive Source: Cobalt-60).
Used to inspect and identify goods in cargo containers, trucks and passenger vehicles.
Designed to prevent the illegal intrusion of contraband, hidden and undeclared goods.
Especially used in high security areas such as border crossing points, sea harbors and military access points preventing.
Totally safe for humans inside the scanned vehicle.
Unique material discrimination feature and highest resolution of a Gamma Scanner.
Throughput and Penetration of ROBOSCAN:

Highest throughput in the world market.
Drive Through" capability due to very low radiation.
Throughput of ROBOSCAN
Up to 500 cars and vans per hour
Up to 200 trucks or buses per hour
No traffic jam on the checkpoint, regardless of the traffic volume. Highest discouraging effect by to total scanning strategy
180 mm of steel penetration.
We Kapri Corp are one of the trusted and most reputed importer and supplier of High Security System in Mumbai, India.
Product details
| | |
| --- | --- |
| Penetration Level | 150-180 mm of steel |
| Throughput Capacity | Appr. 150-200 trucks per hour |
| Radiation Source | Radioactive Substances Cobalt 60 isotope |
| Radiation Energy Level | 1,25 Me V |
| Speed | 200mm/S ~ 400mm/S |