FlatScan-15 Portable X-Ray System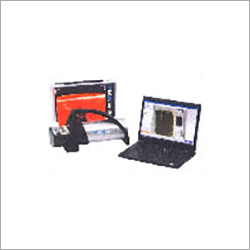 FlatScan-15 Portable X-Ray System
Price And Quantity
Product Specifications
FlatScan-15 Portable X-Ray System

industrial
Product Description
Known for its light weight nature, the Flat Scan - TPXi / Flat Scan - 15 is easy to carry battery driven x ray based scanning device. It has been developed and designed in close association with EOD team members and employees of emergency service to fulfill the precise requirements of required works.
The system consists of
Well built detector panel
Easy to carry x ray generator
Chargers and batteries
Laptop imaging station
FlatScan-TPXi wireless communication system
Software
FlatScan-15 wireless and wired communication facility
Case for its carrying purpose
Features
High permeability level with attributes like sub millimeter brightness
FlatScan-TPXi spacious area with sleek detector panel
Real time image processing facility
Available in ready to use feature and user friendly design
It acts as image quality improving and analysis instrument
In built ThreadSpect software with easy to comprehend mechanism
The panel of the slim detector is located at the back part of the target and its generator is situated at its front side. Its laptop imaging station is instrumental in activating its scanning function.
The 323mmx206mm image processing area of FlatScan-15 and spacious 535 x 412mm imaging area of FlatScan-TPXi have key role in scanning of ordinary bags and luggage via one time scan. It can pierce through 32mm at 160 kv and maximum 29mm thick steel at 120kV levels. The FlatScan-TPXi and FlatScan-15 are capable of producing images with sub millimeter brightness level.
Its state of the art image processing facilities includes pan, deep focus TM, zoom, 3D emboss, stitching, annotation, measurement and identification of material. The bright image capturing and processing mechanism of FlatScan-15 and FlatScan-TPXi is useful for interpretation of image immediately sans any error.
The software of FlatScan can send the image to the screen of a remote command center and can record image in JPEG file and other types of formats of file.
Standard Package
FlatScan-15: 120kV x-ray generator, X-ray detector panel, batteries, laptop computer, chargers, software
FlatScan-TPXi: 120kV x-ray generator, X-ray detector panel, software, laptop computer, transport cases, chargers, batteries and wireless communication system.
Software Features
X ray source parameters with easy configuration facility (mA, kV and time)
Inverted images, standard images, false color images
Histogram, rotate, DeepFocus TM, zoom, pan
On screen measurement system as optional facility
Capacity to differentiate materials as part of optional features
Safety
Audio visual warming signs.
CE certification.
Key switch and physical safety interlock system.