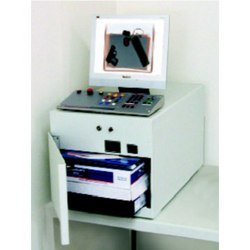 Postal Scanner Systems
Product Code : PS - 30
Product Description
Our valuable clients can avail from us a broad assortment of

Postal Scanner Systems, Postal Scanning Systems

. This scanner is designed with technological advancements using high quality raw material at our vendor's end. Offered scanner is provided with fully digital facilities and is used at banks, post offices, government buildings, ports, airports, hotels, etc to inspect package for security purpose. This

Parcel Scanner Systems
is available in various models and designs as per the specific needs of clients.
Features of Postal Scanner Systems :-

4 X zoom

Automatic push button conveyor

auto Dens alert

Dark & Light enhance

17' High resolution LCD

auto Tracking

Density Scan

Fully functional, robust, low profile

auto Sensing

High/Low Density & Stripping keyboard

Color; Reverse B/W

High density

Fully digital
Inspection Capabilities of Postal Scanning Systems :-
Tunnel Size: 15.4" wide (39 cm) x 8.0" high (20.3 cm) x 15.5 long (40 cm)

L-shaped detector for 100% package screening.

Material Penetration: 4 mm (0.16) steel.

Contrast Sensitivity: Over 2 million color tones standard.

Resolution: 38-40 AWG wire.

Processing: Automatic push button photodiode scan.

autoTracking: Belt guaranteed to autoTrack for life.

Film Safety: Guaranteed for high-speed films up to ISO 1600 (33 DIN).
X-ray Generator :
X-ray tube head: Self-contained

High voltage rating: 90 kV standard. 60 kV operating.

Duty cycle: 100% with sealed oil bath cooling

Beam orientation: Diagonal 80
Physical Details of

Parcel Scanner Systems

:-
Weight: 185 lbs (83 kg)

Construction: Uni body heavy gauge epoxy painted steel construction. Stainless steel command center keypad.

Requirements: 230 volts AC + 10%, < 6 amps. All at 50 or 60 Hz.