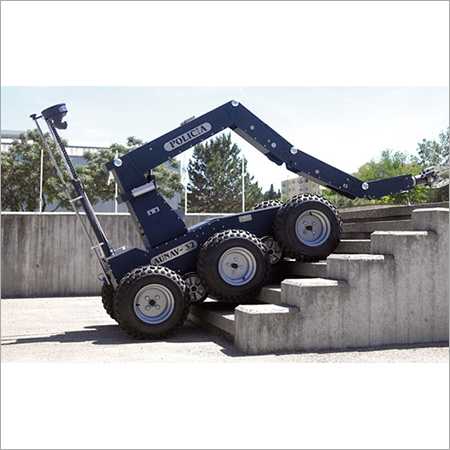 Explosive Ordnance Disposal Robots
Product Description
Explosive Ordnance Disposal

Robots with Arms
Main Features of the AUNAV
Its high strength jaws are useful for trouble free accessing of the hood, boot and interior of a car inspecting the metal or glass at a fast speed with efficiency.

The combined mechanism of hydraulic and electric engines enable the arm of AUNAV to lift maximum 250 kg of weight which is sufficient to direct medium shaped vehicle to a secure area before it ceases to function.

The arm of these robots is 3.5 meter long and its high functional efficiency has enabled AUNAV the most sought after robots among our customers. Moreover, it is reckoned for its user friendly operation and trouble free relocation features.

The quad wheels of these robots are useful for their ease of handling and these can be operated even on rough terrain.

After arranging the arms of these robots, these can be installed inside a Proytecsa van which is utilized as a reliable logistic supporting vehicle during CBRN application and bomb disposal work. The van is equipped with standard grade accessories with precise design.

These are capable of pulling out and cutting of wire of any detonator with accuracy.

State of the art COFDM data conveying facility of these robots prevents interference of radio signal during their operation.