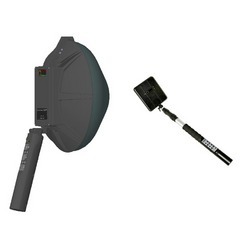 Nonlinear Junction Detector
Product Description
We are an acclaimed name engaged in offering our precious clients a superior quality range of Nonlinear Junction Detector that is used for for search and location of electronic devices both in active and switch-off state. This explosive ordinance disposal is procured from reliable vendors of the market and thoroughly tested at different parameters to ensure its quality and durability. Our Non linear Junction Detector are known for optimum performance, accurate results, flawless operations and longer service life.

Features of Non linear Junction Detector :-
Excellent range
Precised standards
Trouble free operations
Accurate detection quality
The offered MW non-linear junction detector (NLJD) is utilized for identification of electronic systems in its switch on and switch off modes.

Its working principle depends on the mechanism of its semiconductor parts that have key role in producing reaction in the 3rd and 2nd harmonics during its radiation via a microwave based probing signal.

The artificial semiconductor parts possess high second harmonic level. On the other hand, natural semiconductor parts like oxide films are equipped with high level of third harmonic.

The provided NLJD is instrumental in analysis of 3rd and 2nd harmonic reaction of radiated material to detect the presence of any oxide semiconductor of natural origin and electronic system quickly.

This NLJD is capable of locating the better frequency receiving channel with distortion and noise free quality in a self regulated manner. This frequency channel enables it to maintain its functional stability even under electromagnetic working environment. It can also process demolded signal digitally to attain higher sensitivity level.

Its high efficiency parabolic antenna with 20 dB gain at 3600 MHz capacity enhances the range of its detection ability of non-linear objects and pinpoints their whereabouts in space. The laser pinpoint part of this detector is useful for detecting the exact place from where the high level of power of probing signal is generated.